Walk along the Nonette river to discover villages with a rich past!
Immerse yourself in the history of these villages which is intimately linked to the characters of Chantilly: the Le Bouteiller family from Senlis which owned Chantilly, then the princes of Condé to the Duke of Aumale who bequeathed his collections and lands at the Institut de France including a large part of Courteuil and Saint-Nicolas d'Acy.
Courteuil / Saint-Nicolas-d'Acy
Located on the Nonette, the Courteuil mill which has continued to grow and which was considered in the 19th century. as one of the largest in the department, produced up to 36,000 hectoliters of flour ! He stopped touring in 2016.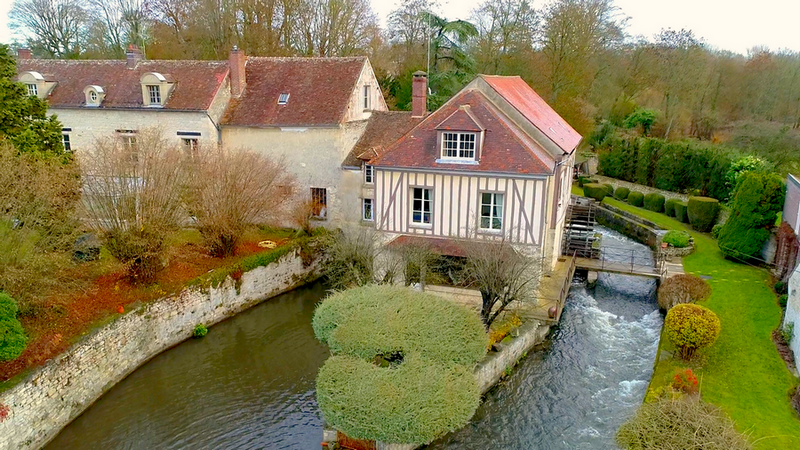 The Nonette mills (31 mills in 1840 over 41 km) including the Moulin de Saint-Nicolas called "Moulin Denise" of the 11th century, were oil, wheat and treading the cloth, and were used to make turn the wheel of a stone sawmill or to shape nails !
It is in Courteuil that theAbbé Prévost d'Exiles, author of Manon Lescaut, died in 1763. A Calvary, listed as a historic monument and one of the first places of literary memory, recalls the place where he fell victim to a stroke. There is still his tombstone (private property).
Vidamee aerodrome welcomed in 1910 and 1918 the pioneers of "heavier than air" such as Guynemer or Morane.
Inside of Saint-Gervais church, there are two recumbent statues from the priory of Saint-Nicolas d'Acy, an eastern hamlet of the town, which housed a congregation of Cluniacs, founded in 1098 and whose buildings and church were destroyed shortly after the Revolution.
This monastery became famous in 1567 by instructing a lawsuit against a sow which had devoured a 4-month-old infant.
Avilly-St Leonard
And in the middle flows a river… The history and the heritage of these villages are particularly attached to it.
You will discover there the 17th century cooler. which could contain approximately 50 tons of ice or the Bacchus aqueduct who served from 1622 to supply water features in the gardens of the Château de Chantilly.
During your walk, other curiosities will surprise you such as the anti-tank shelter of the Paris defense line, known as the Chauvineau line during the Second World War or the game of bow.
Follow the 3.5 km of the course of the PNR Oise Pays de France so as not to miss anything (1h30): To download HERE or can be collected free of charge at the Tourist Office.
Discover the village by drone